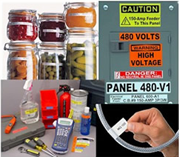 Brother Labeling Tapes:
At Brother Label Maker Tape, we offer all types of Brother Labeling Tapes (TZ Label Tapes, TC Label Tapes, TX Label Tapes, M Label Tapes and DK Supplies etc.) at an amazing price. Our Brother Label Tape selections have both laminated and non-laminated tapes with a variety of color choices. Are you looking for a Brother Label maker? Out of a wide range of Brother Label Maker Tapes, The Brother P-Touch Electronic Labeling System is the fastest and most efficient way to create adhesive backed Labels for almost any home, office, business, school or industrial application.

Buy a Brother P-Touch Labeling system to organize your home and office or create industrial labels for work.